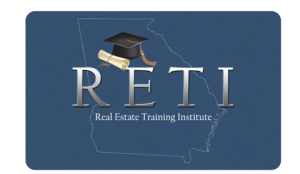 Your Career in Real Estate Begins Now !!
     Established to increase the level of professionalism in real estate education, Real Estate Training Institute offers education approved by the Georgia Real Estate Commission for real estate pre-licensing, post licensing and continuing education classes. Our school works hard to raise the level of quality in real estate education–the results of our efforts have made us a pioneer in the real estate field.  We offer prospective and active real estate professionals the latest and most innovative real estate license courses and curriculum.  A lot of our competitors only teach — our instructors practice real estate every day –   our experienced instructors have transacted every form of real estate imaginable from commercial to investment to residential and everything in between. Our experience will better prepare you for what is to be expected as a real estate sales associate. We understand the needs of the fast-paced, time-constrained real estate professional, and we are committed to the ongoing development and delivery of courses, subjects and learning tools that are immediately applicable to your real estate practice.
If you are a prospective real estate sales associate:
You need to know that the secret to passing the State of Georgia Real Estate License exam is not knowing the most information, but knowing the right information.  Our instructors are licensed real estate professionals with years of experience that greatly enhance the quality of education we offer to our students. We have the information you need to pass the State of Georgia license exam, and we teach it in a way that it can be easily remembered and retained — both for the test as well as for your actual real estate practice. Our goal is to help translate your dream of becoming a real estate sales associate into a reality.
If you are a licensed real estate sales associate:
Don't become one of the statistical casualties of the real estate industry !!  Without knowledge of your positions and strengths, even the most inspired and talented sales person is destined to fall short.  Yes, you can be highly successful in real estate, and you can earn incredible income in this field – today more than ever before.  Knowledge is power — that is why your success is our success.
Real Estate Training Institute is accredited by the State of Georgia Real Estate Commission. We take pride in creating an educational environment that is both informative and entertaining.  We place special emphasis on providing students with the skills necessary to pass the State Exam, and then go on to succeed in their real estate careers. If you are looking for a real estate school offering classes in the Northeast Georgia area, look no further. We're here for you when you are ready!!
As you look toward your future, we hope you consider Real Estate Training Institute as a place to launch your new career, as an ongoing source of real estate knowledge, and as a great opportunity for meeting new friends in the real estate industry.
Don't wait !! Get a jump start on your real estate career today. Give us a call at 770.831.7044 or e-mail us at realestatetraininginstitute@gmail.com  to learn more about our real estate courses. Our professional, knowledgeable staff will be happy to answer your questions.
Real Estate Training Institute ….Committed to Excellence, Dedicated to Service